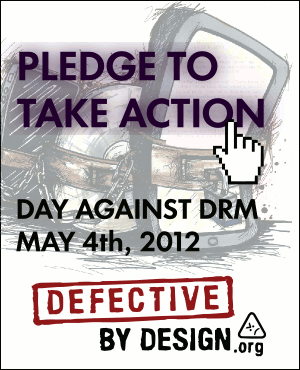 Today is the Free Software Foundation's (FSF) International Day Against Digital Restrictions Management (DRM). This being done as part of the FSF's Defective by Design anti-DRM campaign. To celebrate Day Against DRM O'Reilly Media is having a sale of 50% off all of its ebooks (which are all DRM-free) including Writing and Querying MapReduce Views in CouchDB and Scaling CouchDB. From O'Reilly Media:
In Celebration of *Day Against DRM*
Save 50% on ALL Ebooks & Videos

Having the ability to download files at your convenience, store them on all your devices, or share them with a friend or colleague as you would a print book, is liberating, and is how it should be. If you haven't tried a DRM-free ebook or video, we encourage you to do so now. And if you're already a fan, take advantage of our sale and add to your library.

For one day only, you can save 50% on all O'Reilly, No Starch, and Rocky Nook ebooks and videos. Use code: DRMFREE

Ebooks from oreilly.com are DRM-free. You get free lifetime access, multiple file formats, free updates. Deal expires May 4, 2012 at 11:59pm PT and cannot be combined with other offers.